Perhaps, the first temple in the world dedicated to the two most recent avatars of Lord Sai, Om Sai Mandir is a unique and divinely-inspired temple of the Lord where individuals from all faiths and beliefs gather to worship the Supreme Lord Sai. Om Sai Mandir or Flushing Sai Baba Temple, as it is commonly known, was established in Flushing, Queens, New York (NY) in 2003 with the singular purpose of serving Sai devotees in a spirit of unity, love, and selfles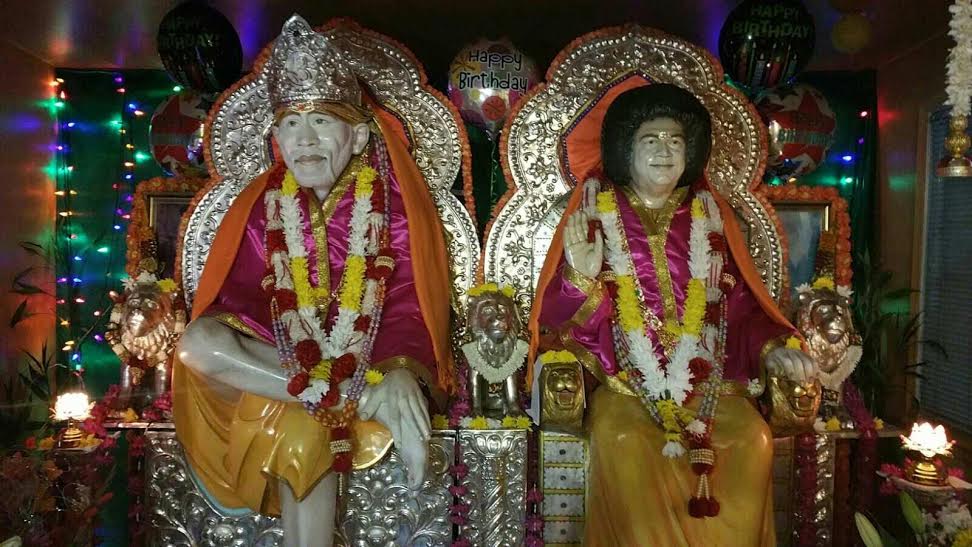 sness. Since its inception, the temple has remained open for devotees seven days a week, 365 days a year.
Temple Timings, Address, and Daily Schedule and Activities
Om Sai Mandir,  4511 Smart Street, Flushing, NY 11355,  Phone: 1.718.461.0454
Website: www.OmSaiMandir.org
Email: info@omsaimandir.org
Find us and like us on Facebook, Google Plus, Twitter, and YouTube (don't forget to subscribe to our YouTube Channel), Blog
The temple is open daily from 8 AM to 9 PM. Please do not hesitate to call us if you have any questions.
Daily Schedule and Activities
Our daily schedule includes four aratis (Kakad Arati – 8 AM, Madhyana Arti – 12 PM, Dhoop Arati – 6 PM, and Shej Arati – 8 PM) just as they are observed in Shirdi. Additionally, Sathya Sai Baba's arati is performed twice every day. In the morning after Kakad Arati and in the afternoon after Madhyan Arati.
Additionally, Rudra Abhishekam and Sarva Devata Abhishekam is performed at 9 AM daily. Vedic prayers such as Rudram, Sri Suktam, Durga Suktam, and Purusha Suktam are chanted during the abhishekam. Hanuman Chalisa is chanted 108 times every Saturday and Maha Mrityunjaya Jap is performed 1008 times every Monday. Sai Naam Jap is chanted every Sunday (1008 times). Vishnu Sahasranam and Lalitha Sahasranam are chanted daily as well.
Apart from the intense prayer schedule, the temple participates in numerous programs and activities focused on teaching bhajans to the children, serving the elderly (senior citizens), feeding the poor (annadanam), and various other service projects that are taken from time-to-time. Individuals with reading difficulties and language problems are provided translation services and assistance with filling various forms.
If you are on Facebook, Google, Twitter or other social media sites, please do like us and join us. We host daily satsanghs and provide a wealth of information on Baba's teachings, sayings, stories, and messages.
Temple Information
Thousands of individuals visit Sai mandir, Sai Baba temple in Flushing, every single year, including devotees from all five boroughs (Queens, Long Island, Staten Island, Manhattan, Brooklyn, and Bronx) and also from states outside of New York, including far-off states. The visitors come not only from the tristate area, but also from various countries. The mandir is fortunate to have a following from practically all continents in the world. It is Shirdi Sai Baba and Shree Sathya Sai Baba's divine presence and grace that attracts everyone, no matter how far the distance. In fact, we have had several devotees who said that they just felt drawn to the temple. Some claimed to have been directed by none other than Sai either through dreams or through friends and well-wishers.
Followers of Saibaba know that He has emphatically declared in the Sai Satcharita that I draw my followers to Me, just as sparrows are drawn with a string tied to their feet. We, at Baba's temple, have been fortunate enough to witness these words in action and can confirm that Baba does indeed carry out His work Himself, without the need for any agency or instrument. It is Swami's supreme will that accomplishes the welfare of his followers the world over.
Directions to Om Sai Mandir
Driving Directions and Route from Manhattan (New York City)
Drive to Long Island Expressway, LIE, (I-495 East) and take Exit 24 (Kissena Boulevard). Once you take the exit, make a left into Kissena and drive north for about one mile and then turn right into 45th Avenue. Keep going for about four blocks and make a right into Smart Street. We are the second building on your left.
Route from Long Island
Om Sai Mandir is just as easily accessible from Long Island. Again take I-495 West and get off at Exit 24 (Kissena Blvd). Turn right into Kissena and go north for about a mile. Turn right into 45th Avenue and drive for about four blocks. Turn into Smart Street and drive to 45-11 Smart Street.

For out-of-state devotees, you can reach LIE through all major highways, including The Belt Parkway, Brooklyn-Queens Expressway (BQE), Grand Central, and others. Once on Long Island Expressway, follow the directions provided above to reach Saibaba Temple in Flushing.
You can also use public transportation, which provides frequent service in the vicinity of the mandir. For directions through public transportation, kindly visit our directions page.
Brief History and Structure
Our founders, Dr. Gangadhar Rao Chalasani and his wife, felt a strong need to have a place of worship that would be dedicated to followers of both Shirdi Sai Baba and Sathya Sai Baba. Given the fact that the Sai movement is growing manifold, it was necessary to have a common ground so followers of Baba could learn about the teachings of both Sai avatars in one place. Our founders started the temple (as a non-profit organization) without much fanfare and in the simplest manner. As such, the institution is a product of love, dedication, and sacrifice for which we remain eternally grateful to the founders, who have decided to shun any form of limelight from the very beginning of the organization's journey.
What is most unique about the institution is the fact that all of its programs and activities are coordinated by a dedicated group of volunteers, who serve at the temple seven days a week. This taskforce of tireless, young Sai-lovers form the very core of the strength and their presence ensures that all of the temple's resources are allocated exclusively for the functioning of the temple and its various programs and not a single cent is spent on manpower.
The organizational structure is one of love and humility. Every person who serves here works without the lure for titles and accolades. Sai is everything from the head of the mandir to the one who orchestrates the entire show. The volunteers and the founders prefer to serve as humble instruments, nay servants, of the Lord and exist for the sole purpose of selfless service.
Blessings of Baba, Sages, and Saints
Since its inception, many saints of the highest order (such as Shree Vishvayogi Viswamjee, Shree Bhawati Siddhar, and others) have visited the temple and showered their blessings on devotees. Each one of them has unequivocally attested to the fact that they could feel Baba's divine presence at the mandir in abundance. In fact, the temple's inception was entirely coordinated by the Lord Himself and we will post these experiences on our blog shortly.
Miracles of Baba at the Mandir
Baba performed the most inexplicable miracles in both Shirdi and Sathya Sai avatars. He never placed much importance on the miracles, though, and performed them for the sole purpose of benefiting devotees. Baba has performed countless miracles at Om Sai Mandir as well. Many of these are not shared due to respect for the concerned devotees' privacy, but we were fortunate enough to record some of the miracles on video and the same can be viewed on our YouTube channel. You can also read about Baba's honey miracle that occurred recently. Baba has also cured many devotees of various ailments (including cancer, Glaucoma, and others) and has benefited them in more ways than we can humanly describe.
We do not crave for miracles, but when Swami does perform them, we feel overjoyed, grateful, and reassured of His constant divine presence. Our attitude toward these miracles is that of a witness filled with reverence, gratitude, and awe. Only Sai is the doer, not us.
Newsletter, Outreach, and Information about Sai
It is imperative that our beloved Lord's teachings and stories be preserved for future generations and it is our humble endeavor to share His teachings (again as an instrument) through the temple's newsletter, blog, and various one-on-one and group-based educational interactions. The past newsletters can be viewed here and to subscribe to our monthly newsletter, please visit the subscribe page.
The mandir's blog has many informative articles and can be accessed through any Internet-enabled device. Furthermore, extensive information is posted on a daily basis through our various social media outreach initiatives on Facebook, Google Plus, Twitter, and YouTube. Be sure to like us on your favorite social media channels.
Information for Out-of-State Devotees
If you are visiting New York (NYC) for the purpose of having darshan at Om Sai Mandir, there are plenty of amenities in the close proximity of the mandir. In addition to the prasad served at the temple, there are plenty of restaurants and fast food joints in the close vicinity of the temple. From the Ganesh Temple's canteen to other fast food and fine dining establishments (and we have a variety, from Chinese to Italian and everything in between), food is never a problem in Flushing. If you need to make living arrangements during your stay in New York, the Flushing YMCA offers reasonably-priced accommodations. There are also many hotels and motels in the area, should you desire to follow that route. We are not affiliated with any of these organizations, so devotees should perform their own diligence before narrowing down their lodging and eating arrangements.
Rest assured, we are just a phone call or e-mail away, so please do not hesitate to call the temple if you have any questions.