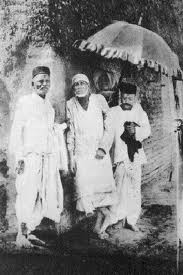 A devotee of Baba was bed-ridden with a chronic illness. As she was struggling with her ailing health, doctors were trying their best to revive her vitals and restore her to a state of normalcy. Unfortunately, not much happened in way of progress and one night her body turned blue. It appeared as if she was going to pass away.
Suddenly, Baba and Raghavendra Swami, a divine saint from Mantralaya, appeared by her bedside. Baba gave her a packet of vibhuti and said, "Child, according to your destiny this is your time to leave earth. According to your purva karmas (prior deeds) you have to take birth for another eight lives. Fear not, though, I will save you. I will let you die eight times and resurrect you immediately in this lifetime itself. You will be freed on the eighth time and shall become a guru yourself."

True to Baba's words, she did pass away but woke up almost immediately due to Baba's grace. The process repeated eight consecutive times as predicted by Baba. After the eighth instance, her health was restored and as all her karmic load was burnt to ashes, she herself became a saint, a sadguru in her own right.
She even gave divine experiences to her followers. One of her followers was about to fall once and she appeared on the scene and held her child, leading him to safety. Karmas, destiny, fate — all of them have their place in this universe but faith in God and God's grace can ferry us through any difficult situation. He knows how to get us out of any trouble.