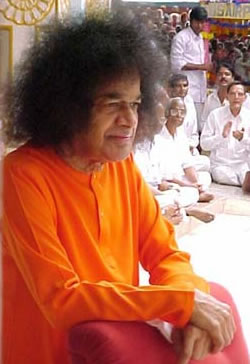 A student in Baba's university was on his way to appear for an extremely important exam. It was the day of his finals and he had done his very best to prepare for the questions. Little did he know that when he was on the way to the test center, God had arranged for an even tougher exam for him — the test of humanity!
As he was on the way that day, he noticed a man in need of urgent medical attention. The slightest delay in providing emergency medical care would have meant sure death for the person. What was he to do? If he did not reach the exam on time, he would lose one full year for no fault of his own. On the other hand, if he left the man unattended, an innocent life would be lost.

After much internal debate, he decided to follow Baba's teachings. "Love All, Serve All," is what Baba has repeatedly taught during His entire avatar. The young boy decided to stake his career to honor Swami's words and took the man to the hospital. After ensuring the man's safety, he rushed toward the test center.
Upon reaching the test center, he realized that nearly half of the exam was over and he was late. Despite the setback, the young boy decided to give his best attempt and attended to as many questions as he possibly could. Upon completing the exam, he visited Baba.
In the crowd of thousands of devotees Baba approached this young boy and said, "Child, you passed God's test today. Don't worry about your exam. I have attended to the remaining questions Myself. You are sure to pass." True to Baba's words, he passed with flying colors, and in fact secured a first class on his exam.
In our daily lives, we always get a set of choices. "Me" versus "We" is often the theme of these choices.