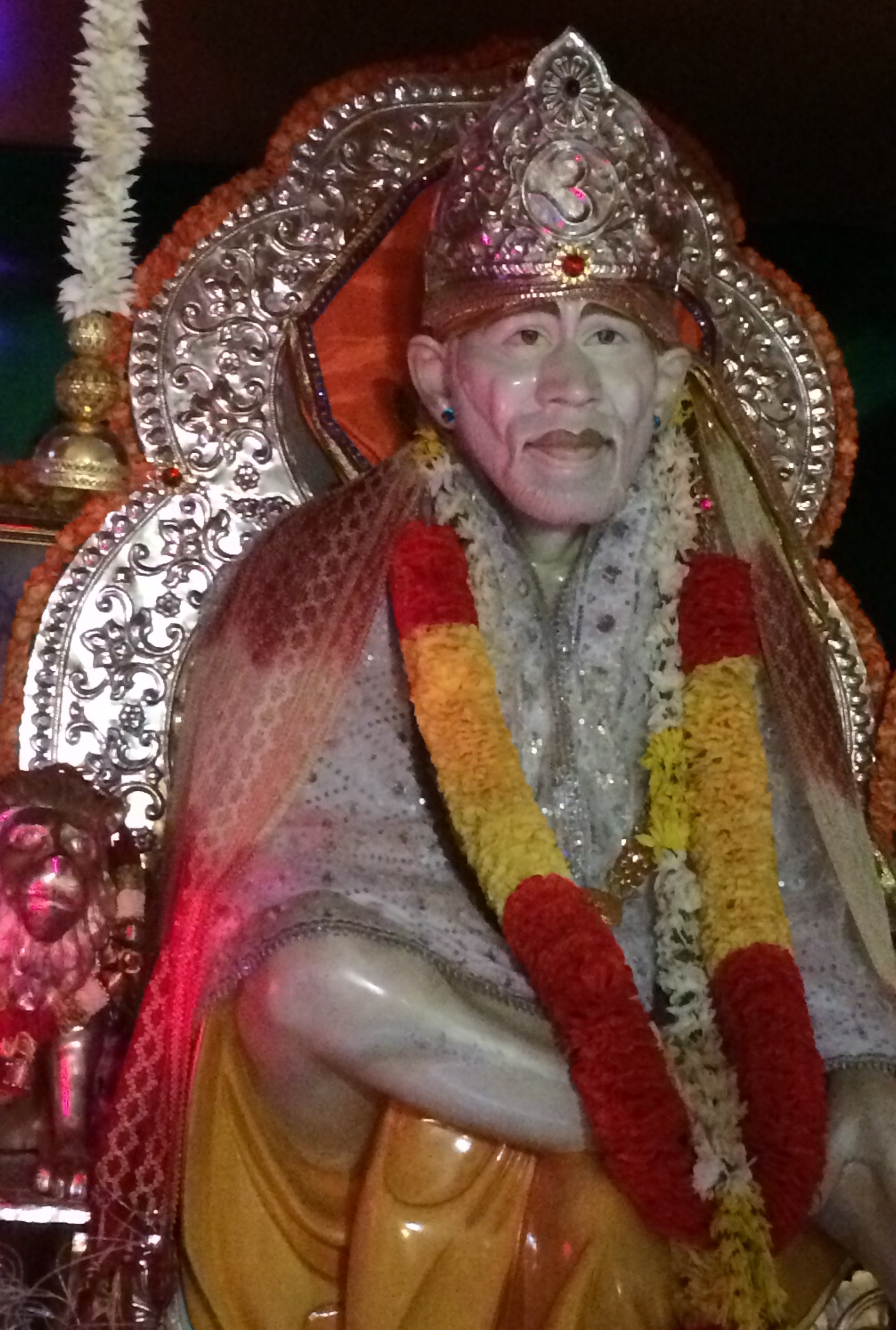 By The Editor, Sai Sandesh, Om Sai Mandir – Sai Baba's Temple in Flushing, NY
Once, a student of Swami was seated at His feet. Although fortunate to be a student in the Lord's educational institution, he was young and had been influenced by the ways and claims of modern education. He had heard that without God's will even a leaf will not move. This is an ancient adage, but he wanted concrete proof of the same and so he put forward a question to Swami. The essence of his conversation was as follows:
"Swami, you say that not even a leaf will move without God's permission. Here, I place a pen on the floor. Move it and prove this Supreme Will to me." Baba has His own ways of teaching all of us, His children, and could He lose the opportunity to give a real life experience to one of His beloved students. Nay. Swami responded in His own way and told the child to lift the pen. He did so effortlessly. Swami then said "Ok, place it back." The student obeyed and put the pen back on the floor.
Baba then looked at him and said, "Now lift the pen." Much to the student's astonishment, his arm simply did not move. He could not move his arm at all, let alone lift the pen. He had tears in his eyes as he feared that he would remain in the frozen state for a long time. With tear-filled eyes, he looked at the Lord, who was all compassion and love. The Lord said, "Ok, now lift the pen again!" Much to the young man's delight, he could effortlessly move his arm and lift the pen.
It was then that he understood that the Lord does indeed control the entire universe and everything is His will. We may not understand His ways, but they are always beneficial for us.
A similar incidence occurred in the 90′s. A great saint-devotee of Baba, Late Dr. Rao, used to reside in Hyderabad, India. Due to a stroke, one of his hands had become paralyzed and it was very difficult for him to manage his daily chores with just one hand. Yet, with implicit surrender in Baba, he used to carry on with his routine duties without complaining. Even with that ailment, he would pray for all the Sai devotees who would rush to him for guidance and succor. Whenever he would pray to Baba for someone's benefit, that person would definitely receive divine grace. Such was his relationship with Baba. Whenever he would sit in his meditation room, the Lord would appear in His physical form and converse with this saint-child of His. Despite his close proximity to the Lord, Raoji never requested Baba to heal him and instead continued praying for the benefit of all mankind.
One day, his family asked Raoji to pray to Baba to heal his hand and cure the paralysis. He was reluctant but upon repeated entreaties by his family, he finally conceded. That day, when he sat for prayers, the Lord appeared as usual. After the prayers, Raoji reluctantly told Sai about his paralyzed hand and conveyed the prayers of his family members. Did the Lord not know? Of course, He knew. Baba looked in the other direction as if He had not heard anything and continued conversing like the mischievous baby Krishna of yore. Raoji thought that Baba did not want to grant his request and so he kept quiet out of much respect toward Baba. Baba then suddenly said, "Look at my picture there. It is covered with dust. Go and clean it first and then continue your prayers."

Raoji was in his late sixties and so he slowly got up and went toward the picture. He picked a piece of cloth and swiped the picture clean. It was then that he realized that he had cleaned the picture with his paralyzed hand. Baba had healed him instantly and the order to clean the picture was just a naughty play of the Lord.
Sometimes, we understand what God's will is and yet like a naughty child, we want to have it our own way. If it is not to our benefit, the Lord will not allow us to do it. The story of Upasani Baba is a case in point. Upasani came to Lord Sai when he was forty one years old. He was in awe of Baba, but did not desire to live in Shirdi. Baba, on the other hand, wanted him to stay in Shirdi and progress spiritually under Baba's direct guidance. Upasani wouldn't listen, though, and left Shirdi. Baba then said, "Okay, go. I will do what needs to be done. You will be back in eight days."
Upasani, however, had no intention to come back. He started walking away from Shirdi and continued walking for eight days. On the eighth day, he met some individuals who asked him to join them on their visit to Shirdi. By then, Upasani, had forgotten about his intention to stay away from Shirdi and he joined them. When he touched Baba's feet, the latter joked "See, he came back in eight days." Upasani was surprised because despite walking for eight days, he was still within the vicinity of Shirdi. How could that be possible. He thought he had walked so many miles. How did he not reach farther? It was then that he realized that it was Baba's will that did not let him go far.
Such is the power of Baba. With His will, even the impossible becomes possible. One may ask, "What is the role of free will in our lives? What about God's will? Are they both separate?"
These are difficult questions that only the Lord can answer best. We surmise, however, with our own understanding. It is very true that the Supreme Will moves the universe and the overall direction of our lives, but at the same time there is free will too. Let us explain our understanding further. When the owner of a pet ties a leash around the neck of the dog and takes it for a walk, the owner constantly controls the direction the dog has to walk in, yet, the dog has free will to play around within the length of the leash. He can step on the grass, tease other dogs on the road, play in the dust a little, and have some fun. But, despite this freedom, it is the owner who decides the overall direction in which the pet has to walk (in our case, toward God). This is analogous to the Supreme Will.
Finally, we do have complete free will with our reactions. If an event occurs in our life, we are hundred percent free to react to the event with happiness or sorrow. This reaction is of our own making and determines our future karma. If we accept the Lord's will in every event in our lives, we transform our reaction into unconditional surrender and no further karma accrues. We are then completely free and on the road to unlimited, eternal bliss.