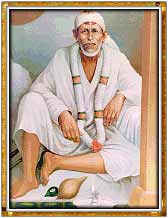 In 2005, there was a severe power failure during a hot summer evening. It was late at night and, much to our dismay, ours was the only apartment that was without power. We were concerned about temperature-sensitive medicines that were in our refrigerator, but despite our best efforts the power was not restored.

Our building superintendent did his best too, but was unsuccessful. Finally, after many hours of struggle, he decided to call an electrician the following day.
Before giving up, however, we invoked Baba from the bottom of our heart. Much to the amazement of our super, and to our delight, the power was miraculously restored the moment we sought Baba's assistance. Seeing this miracle, the super, too, was awestruck and even to this day he asks us to pray to Baba for his welfare. Strange are the ways of the Lord.