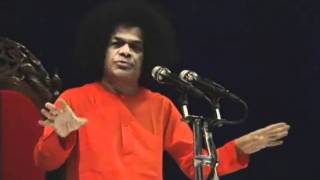 October 20 is a very special day for Sai devotees, for it is on this holy day in 1940 that Sainath, who was then in the form of little Sathya (14), announced to the world that He is the incarnation of the Divine Lord Sai Himself. For this reason, the world celebrates this day as "Avatar Declaration Day".
On October 20, 1940, the young Sathya has left for school as usual but returned promptly. Mimicking Lord Narsimha, who killed a demon at his doorstep, Bhagwan Sathya Sai Baba, stood on the doorstep of His dwelling and made an emphatic announcement:
"I am no longer your Sathya. I am SAI."
At the time, Swami's sister-in-law came rushing out from the kitchen and was dumbfounded to witness a divine halo around our Lord. His splendor paralleled that of Divine Krishna when He gave the vision of the whole universe in His mouth.
He addressed her further: "I am going; I don't belong to you; Maya (delusion) has gone; My Bhaktas (devotees) are calling Me; I have My Work; I can't stay here any longer."
The panic-stricken sister-in-law called for her husband, the brother of Swami's body. When the brother attempted to accost Baba, the latter chided him: "Give up all your efforts to cure Me. I am Sai; I do not consider Myself related to you."
Immediately thereafter, Baba moved into the garden of the then excise inspector Sri Anjaneyulu's bungalow. There, Baba sat on a rock, just like He did in His previous incarnation as Shirdi Sai Baba. People started flocking to Baba in large numbers and He gave them the very first bhajan, the one that resonates in our hearts till this very day:
"Manasa Bhajare Gurucharanam Dusthara Bhava Sagara Tharanam "
(O Mind! Meditate on the Feet of the Guru, which will take you across the wearisome sea of Samsara or worldly existence.)
Excerpts from Bhagawan's Discourses:
In 2002, Avatar Declaration Day discourse Swami recalled His childhood days and shared with everyone His early years. A small excerpt is here:

"The Corporation Commissioner of Bellary and his wife played host to us for three days. They took us to the Virupaksha temple in the nearby Hampi Kshetra. Seshama Raju and his wife told Me to remain outside the temple and keep a watch over their belongings as they would go inside to have darshan of the deity. I readily agreed and remained outside. As soon as they entered the temple, to their utter astonishment, they found Me standing inside the sanctum sanctorum where the deity is supposed to be standing. Seshama Raju could not believe his eyes. He thought, "Why did he come here when I told him specifically to remain outside and take care of our belongings?" He at once came out of the temple only to find Me standing there! He again went inside and found Me there also! Still he was not convinced. He told his wife, "You go outside and keep a watch over Sathya. Do not allow him to go anywhere. Meanwhile, I will go inside and see whether he is still there." She did accordingly. He again saw a smiling Sathya standing in the sanctum sanctorum. The Corporation Commissioner was also a witness to all this. He recognised My divinity. When they came out of the temple, he caught hold of Seshama Raju's hands and said, "Raju, do not be under the impression that Sathya is your brother. He is not an ordinary person. You are deluded seeing His physical form. There is divine power in Him.
We came back to the Commissioner's house, had our food there and started our return journey to Uravakonda. The Commissioner wanted to give Me a gift. He said that he would get four pairs of shorts and shirts stitched for Me. I firmly told him that I would not accept even one. He did not want to force Me either. Then his wife suggested that a gold collar pin would be an appropriate gift for Me. In those days, it was a matter of prestige for children to wear a collar pin. Immediately, he bought a gold collar pin and put it on the collar of My shirt. I protested. Under any circumstances, I never accepted anything from others. But, Seshama Raju insisted that I accept the gift. He said that my refusal to accept the gift would amount to showing disrespect to the Commissioner. So, I obeyed him.
After returning from Hampi, I was going to school wearing the collar pin. The pin dropped on the way and could not be traced. A major change took place in Me. Worldly attachment left Me in the guise of a collar pin. I decided to embark on My mission to alleviate the sufferings of My devotees."
[Source: http://www.srisathyasai.org.in/pages/ashraminfo/Avatar_Declaration_Day.htm]