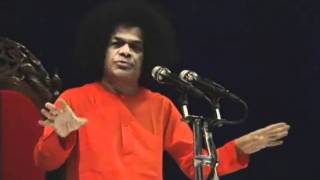 Nature is nothing but the manifestation of a minute fraction of God's infinite glory, and billions of ever-expanding universes are mere atoms when compared to the all-powerful Lord. When such a powerful Lord commands His creation on a course of action, it cannot but fulfill that order with all humility and reverence.
The might and majesty of an avatar cannot be comprehended by human intelligence; it can only be experienced. During their physical incarnation, avatars perform countless deeds that are considered miracles in the mortal realm, but in reality they are visible manifestations of divine sankalpa (will). This will is so powerful it can alter even the writ of providence and, when necessary, overrule otherwise unalterable cosmic laws. The warmth of sincere devotion can melt God's butter-soft heart in an instant, and in response to a devotee's plea the Lord becomes like a servitor, willing to extend any service possible. When the call is sincere, He will alter even destiny and rescue devotees from sorrow. This has been the experience of innumerable devotees.
Once, a mother-in-law was fortunate enough to experience this grace. She was a pious lady who had a big family with many sons and daughter-in-laws. Despite experiencing all forms of happiness, she was not at peace, for none of her children were able to become parents. She visited Puttaparthi with utmost reverence and placed her sorrow at the feet of the Lord of Parthi. He heard her request with compassion but explained that none of her family members were destined to become parents-that was their fate. She was disheartened but she firmly held Sai's feet and with tear-filled eyes begged Him to intercede. Swami was moved and asked if she believed in Him. She calmly said that His will was supreme and that He could alter destiny itself, if He so willed. Swami was touched by her faith and blessed her. The following year, she came with beautiful grand children.

During the Shirdi Sai Avatar, a devotee brought several seeds to Shirdi. It was his intense desire to plant trees near Dwarakamai. Baba was reluctant, however, and refused to accede. As time passed, the seeds dried and became incapable of germinating. The devotee was unable to bear his beloved Sai's refusal. Day and night, he was suffering in anguish. Sainath was unable to see His devotee suffer in this manner and called him to His presence. Baba asked him to quit worrying and also ordered him to plant the dried seeds with faith. He declared that even though the seeds had dried, they would germinate into beautiful plants-and they did.
During another instance, Baba's devotee, Shama, was bitten by a snake. Frightened by the imminent danger, Shama immediately rushed to His beloved Sai who uttered the following words: "Oh vile bhaturdya (priest), do not climb up. Beware if you do so. Go get away, come down." Shama was disheartened to think that the words were uttered at him, but in reality they were Sai's antidote to the poison. It was a direct command ordering the poison to stop rising. Shama recovered completely. On another occasion, Shirdi witnessed a terrifying storm that threatened to devour the entire village. All its inhabitants rushed to their beloved Lord Sai, who in His utmost mercy came to their rescue. His simple words, "Oh, stop; calm your fury," were sufficient to quell the furious storm in moments.
God is so merciful, He cannot but run for His devotees. He is like the hard-working mother who is always busy performing routine household-in His case, cosmic-duties. Despite her burdens, the mother always provides for the children's needs and keeps a watchful eye on them. The children may not know or realize this. When they are safe or at play, she continues performing her chores, but if a child starts crying inconsolably, she will leave everything and run to console her darling. Similarly, God, who bears the love of a thousand mothers, rushes to respond to His children's calls. His simple words will allay all fears and fulfill devotees' wishes.