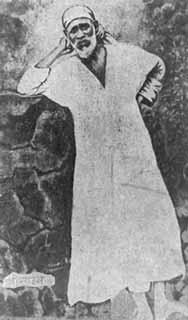 No, that's not His number. It is even easier than that.
Once, Peda Bottu, a devotee of Baba who had the good fortune to live with Shirdi and Sathya Sai Baba was sitting at the verandah in Prashanti Nilayam.
It was her habit to chant Baba's name constantly. One night, as she was going to bed, she started chanting (mentally) "Om Shri Sai Ram, Om Shri Sai Ram …"
Suddenly, the door opened and Baba came out at that odd hour. She was shocked to see Baba. Baba immediately came to her and said, "Why did you telephone Me?" Peda Bottu was shocked as she did not have a phone. Baba then explained to her that chanting God's name equals to calling upon Him. If you chant sincerely, He MUST come. He has no choice. That is exactly what happened to Peda Bottu.
What are you waiting for? Let us mass-call Baba's heart line. There is plenty of bandwidth for ALL of us. His lines are never jammed — always open and awaiting devotees' calls 24/7. And what's better? He personally answers EVERY call — instantly!