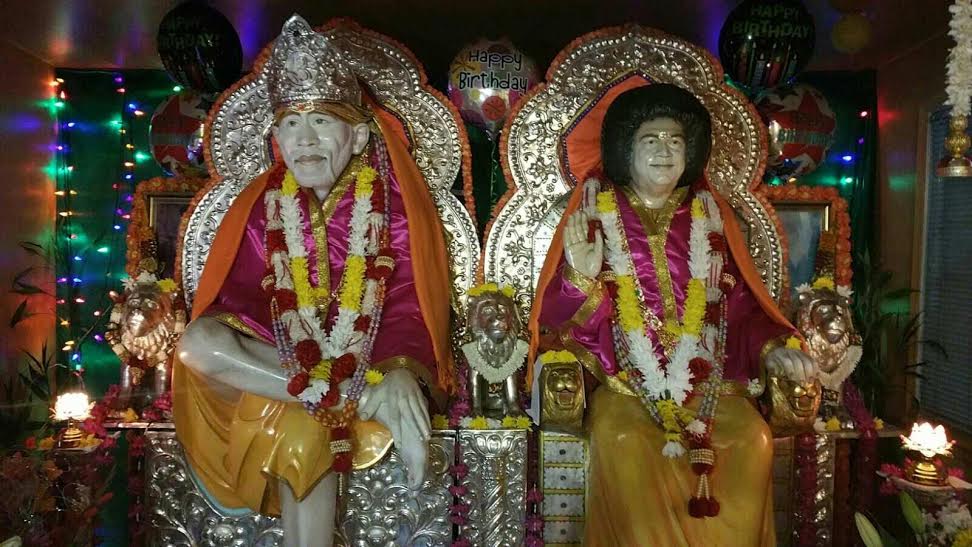 Sometimes, years of penance does not move the Lord even slightly, but the slightest selfless gesture moves Him, the ocean of bliss, into tears. At Om Sai Mandir, we have experienced numerous leelas of Baba and His constant presence and guidance. We are sharing a wonderful experience that left us completely in awe of Baba's magnificent powers and His boundless love for all of us.
About five years back, Om Sai Mandir received a call from a South Indian school dedicated to blind, orphan children. They were visiting the US for a performance and wanted our assistance with transportation, food, accommodation, and the like. Since the group consisted of small children who had none except Sai, we decided to do our part and serve them in accordance with Baba's teachings ("Love All, Serve All"). The volunteers at the mandir are ever-eager to render selfless service and so everyone started preparing for the kids' arrival. We picked them from the airport and arranged for their overnight stay at the local YMCA. In the morning, our volunteers picked them up and brought them to the mandir. During the day, they were served in all possible ways. Some volunteers helped them put on their shoes, others carried their bags around, still others arranged for their food and other comforts. During their stay, we did everything in compliance with Swami's teachings. We continued serving the children during their stay and finally helped them back to the airport.
The children were treated as we treat our own family members and we could tell they were very happy. Everyone's eyes were filled with tears because these children were so beautiful and so talented. Their physical challenge did not deter their spirit in the least.
Little did we know (or expect) the big surprise Baba had in store for us. Seva is never rendered with the expectation of any reward or recognition (even by God) and all this was done silently without any public display.

The Thursday immediately after the event is when we discovered the impact of our small seva. That day, we heard literally hundreds of stories of Baba's intervention, grace, and help to the devotees who come regularly to the mandir. In addition to miracles that happened at the mandir, some recovered from long-term (otherwise incurable) health issues, others told of Baba's dreams and visions, still others had their legal problems solved … these were not isolated occurrences … every single person who came to the mandir that day — every single person — came with good news. Most talked about "obstacles" that had been nagging them for years and felt that they were miraculously resolved on that particular day.
It is very normal to witness Baba's leelas at Om Sai Mandir, but what was significant about that day was the collective wave of leelas that every single person had to share. A wise elder then explained that Baba was indeed pleased to see the visiting children happy. These differently-abled children had none except God and since they were served, God, too, was happy and He was displaying His happiness in this manner — by providing grace to His devotees.
We have witnessed many similar incidences when Baba has expressed His happiness with acts of selfless service. His presence is also felt very strongly during group bhajans and devotional gatherings.
During both Sai avatars, Baba has taught us the importance of selfless service. One afternoon, Mrs. Tarkhad, a devotee of Baba saw a hungry dog and felt great mercy for him. She immediately fed him with a piece of bread. When she met Baba that day, He said:
"Mother, you have fed Me sumptuously up to my throat, My afflicted pranas (life-forces) have been satisfied. Always act like this, and this will stand you in good stead. Sitting in this Masjid I shall never, never speak untruth. Take pity on Me like this. First give bread to the hungry, and then eat yourself. Note this well." She could not at first understand the meaning of what Baba said. So she replied, "Baba, how could I feed You? I am myself dependent on others and take my food from them on payment." Then Baba replied, "Eating that lovely bread I am heartily contended and I am still belching. The dog which you saw before meals and to which you gave the piece of bread is one with Me, so also other creatures (cats, pigs, flies, cows, etc.) are one with Me. I am roaming in their forms. He, who sees Me in all these creatures is My beloved. So abandon the sense of duality and distinction, and serve Me, as you did today."
God is like a child. He does not need complicated rituals and expensive gifts. What really pleases Him are heartfelt prayers and selfless service. Selfless service is the royal expressway to God!