By The Editor, Sai Sandesh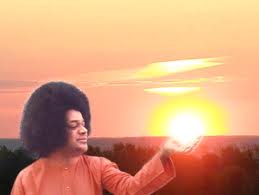 In 2000, I was in the midst of making a life-changing decision. There were two [confusing] options and both would seriously impact my future forever. Not knowing the direction, I visited Puttaparthi to seek Swami's advice. Every single day, I would impatiently await Swami's arrival and as He would pass by me, I would hold out my request in the form of a letter. No response. One day, He did take the letter but walked away as if it meant nothing. As days were going by, the suspense was becoming unbearable, and I was getting seriously anxious about the course of action that had to be taken. The deadline was just a few days away and I was unable to make up my mind.
One afternoon, I felt impelled by a strange urge to walk to the ashram's bookstore. There were thousands of books across innumerable shelves. My hand, almost automatically, reached out to a certain book and opened a random page. Strange! There was the story of a woman who was facing the same predicament as me. She was to choose between two options, each with a serious impact on her life. She, too, tried to get an answer from Swami but Swami would just smile. One day, she just burst into tears and sought Swami's merciful intervention. "Chant the divine name," she heard.

She took the advice seriously and resorted to ceaseless chanting of Swami's name. Just the way butter melts at the slightest contact with heat, her confusion just melted away as if it never existed. I took the clue from the book and started chanting God's name ceaselessly. I soon realized that there was no confusion and all the apparent dilemmas were nothing but weaved by my own mind.
When you are in Puttaparthi, you stand in one of many lines. Just before darshan, each line is given a token number and those standing in that line would be seated in a row correspondence to that number. Up until then, I was choosing the darshan line to stand in-each day, expecting to be seated in the first row. That day, however, I had tears in my eyes and I said, "Swami, not this way, not that way, but your way. Thy will shall be done." I closed my eyes and told Swami to guide me to the line He wanted me to stand in. Surprise! I went and stood in a line that won token number one. I was thrilled to have the opportunity to sit so close to Swami.
As if that wasn't enough, Swami came straight to me that day and stood near me for a few seconds. He raised His blessing hand and assured me of His continued protection. As soon as I went back home, I was in for one more surprise. All the arrangements had been made and the decision I was so strongly fighting to make had already been taken and all the resources arranged accordingly.