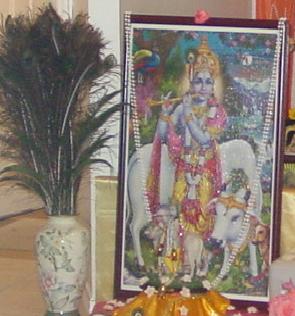 During the Krishna Avatar, The Divine Lord raised His Holy Sudarshana Chakra to destroy an evil King, Shishupala. The Lord held the lightning fast Sudarshana on His finger and sent it the king's way. Within a miniscule fraction of a second, the king was beheaded.
Unfortunately, the Lord's finger started bleeding and Draupadi, an ardent devotee of the Lord and the Pandavas' wife, rushed to bandage the bleeding finger of her beloved Lord. She tore a small piece from her sari and tied it to the Lord's hand.
Krishna was touched by this selfless token of affection and pledged to rush to Draupadi's protection whenever needed. Draupadi used to tie a raakhi to the Lord's hand every year and Krishna always showered His protection on her.

Once, the wicked Kauravas were attempting to disrobe Draupadi and thereby tarnish her honor. She stood helplessly as the Kauravas began to disrobe her. Fortunately, she had full faith in the Lord, and not on human beings. At that critical juncture when none came to her rescue, she surrendered her mind to Krishna and sought His divine protection.
At that very second, Krishna appeared in the court of the Kaurvas and made her clothes eternally long. No matter how hard the Kauravas tried, a never-ending flow of clothes miraculously began to emanate from the sari of Draupadi. After a very long attempt, the Kauravas failed and Draupadi's honor remained intact. It was the Kauravas who were put to shame.
Draupadi tied a small rag to Krishna's hand, but the Lord reciprocated with an ever-flowing stream of clothes. Apparently, for every thread that was tied on His finger, Krishna multiplied the count many times over.
The festival of Rakhi honors many such brothers and sisters. In fact the festival of Raakhi is not confined to just India. From Alexander to Mughal emperors and Rajputs, the pure and selfless love of brothers and sisters is a time-honored tradition that has crossed geographic boundaries.