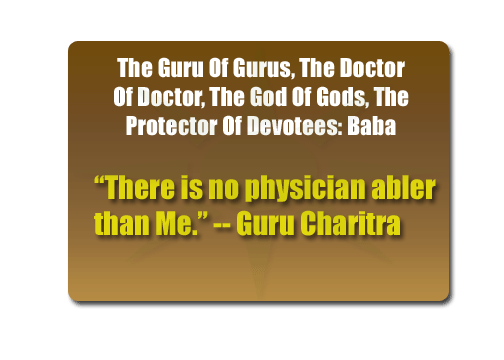 My cousin Rup (name abbreviated) was diagnosed with liver failure at the age of twenty two. He was too young but due to sudden progression of the disease, he collapsed into a comma. He was lifeless and barely breathing. Doctors made several attempts to revive him and put him on life support systems.
As the family was discussing his prognosis with the doctors, a team of doctors at Kothari Hospital, Mumbai, advised the family to start arranging for his funeral. Apparently, they did not see any hope for the patient. It was true. Medically, nothing appeared to be possible.

In the team of doctors, however, the family physician happened to be a devotee of Baba. He knew medically that was all that could be done but he also knew that Baba is more capable than any physician and started praying fervently. Just then, another devotee arrived from Shirdi. He applied Baba's udi (holy ash) on the patient's forehead and both of them started praying to Baba for the welfare of the patient.
Things took a strange turn the very next day. The patient's vitals returned to normal and he started communicating the following day. The team of doctors was exhilarated at the recovery and attributed this revival as a "true miracle".
Lord Datta has emphatically declared in the Guru Charita: "There is no physician abler than Me!"