In 2006, Swami had conducted Athi Maha Rudram on an epic scale. Tens of thousands of devotees from all corners of the world had arrived in Parthi to witness the Lord performing the grandest of all yagnas. At His calling, I had visited Parthi as well. It was the most exciting time of life. Twenty-one days of sheer bliss and hundreds of surprises and miracles, every single day.
As I would be seated in the rows, I would request Baba to grant me an interview or at least speak with me during the darshan itself. My prayers were answered on several occasions, often through naughty smiles, exchange of letters, a visit to the inner area of Swami's temple and other similar experiences. I was not satisfied, though. I wanted to speak with Swami physically, one-on-one.

Swami always grants His children's prayers but often displays His naughtiness in the act and also inculcates a few lessons for the long-term benefit of the devotee. I had visited Parthi on earlier occasions but had forgotten my way to the Kalpavriksha, the celestial tree in Parthi where Swami had performed numerous miracles as a child. I tried to find my way there but ended up at the meditation tree instead. As I stood there confused about the direction to take, a strange-looking man came to me. He was around five feet and a few extra inches. Dressed in a regular attire, he did not appear anything but ordinary. Sigh, how we look only on the outside.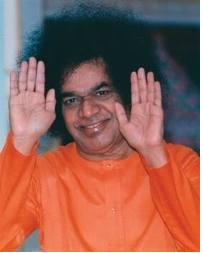 Without my prompting, he asked me pointblank: "Are you looking for the way to go to the Kalpavriksha tree." I said, "yes!" Due to Swami's veil of maya (illusion), I could not think logically and at that point it never struck me as to how he knew about my desire to find the tree. The conversation went on. He gave me directions to the tree and also offered me a picture of Swami. It was one of the popular pictures of Swami with two hands raised in blessing. At first, I was reluctant to take the picture from a stranger and refused. He said, "Two rupees only." [Devotees acquainted with the teachings of Shirdi Sai Baba may have guessed it. Baba used to often ask for two rupees as a symbol of Shraddha (faith) and Saburi (patience).]

Something in me said "take the picture" and so I offered him the sum and took the picture. No sooner did I accept the picture he explained to me that he was a heart patient (translation: eager to seek devotees' love) and that he sold pictures (translation: blessings) for a living.
I thanked him and walked toward the Kalpavriksha. As I was walking toward the tree, I flip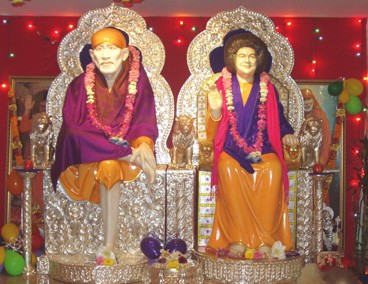 ped the picture on the other side and, lo, there was a pencil sketch of the statues that were to arrive at Om Sai Mandir in the future. In 2006, we had initiated the process of getting the statues done but everything was in its preliminary stages. The pencil sketch was indeed symbolic of two statues of Baba that were soon to adorn the mandir's altar.
Until then I did not think of anything but a thunderbolt struck me that night when I was speaking to a saintly devotee of Baba. Before I could utter a single word, I was asked "Did Baba come to you today?" I said "no". I am praying to Him but He is not responding. Again, the same question came: "Did not Baba come to you today?" My answer was "no" again. At this, I was given one more hint: "Did not Baba come and give you something today?" Now, everything sunk in. "Yes," I said. He did come but I did not recognize Him in the form He had adorned. Then the saintly devotee went on to narrate snippets of my meeting with Baba, despite the fact that I was alone during the meeting.
Swami had indeed granted me darshan (vision), sparsham (touch), and sambhasham (conversation). He came but I did not recognize Him. Baba visits so many of us in so many different forms. We need to start seeing the inner Swami in everyone to avoid missing these surprise darshans.