By H. Shivaramakrishna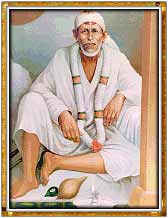 Thank you for providing me with yet another opportunity to share my experience with Baba. It was last thursday, the stormiest day in new york city when the city came to a momentary halt and I was on my way back from work to Baba's mandir for bhajans. It has been long time since I sang a bhajan for Baba and I was longing to sing one. But nature had its own plans. It was 6pm and I was still struck in traffic , long way from the mandir.
Later I realized that there was a disastrous tornado that struck in the city in close proximity to where I was. Time was passing by and it was 7..715…730.. and still no improvement in traffic flow. I was struck in the same place. And that was the time when I usually get a chance to sing a bhajan for Baba, and I sang it sitting inside the car. I was praying Baba to just let me see him and I was disappointed that I was not able to make it. I took it as a bad omen that Baba doesn't want me to sing on that day.

Time flew and it was eventually 9pm, I made very little progress in the traffic towards home. And my stomach literally started crying to me for some food and I had no access to food in the middle of the street. I was still praying to Baba just to have his darshan. Suddenly I got a call from my wife who is in mandir all this while and was telling me that a regular devotee/volunteer (who lives a block away from mine) is also struck in the havoc traveling in public transit a few yards from me and was trying to find a way to reach home.
Then I further proceeded to pick him up and started the journey back home in the chaotic traffic. All of a sudden he removed a bag of food and started to share it with me. After eating it and quenching my starvation, I slowly asked him how he got that food in the middle of nowhere. And the answer just shook me as there was another Baba's devoteee's house closeby where I picked him up and they ran into each other to their surprise.
And the other devotee has actually given him the food which turned out to be Baba's shej arati prashad. As he was unable to travel to the mandir because of the storm wreckage, he wanted to give it to Baba through the other devotee. All 3 of us were headed to the same Baba mandir but were not able to make it.
The moment I learned it was Baba's shej arati prashad, all my hair stood up and I was totally in a baffled situation connecting the dots.
Then, all my doubts regarding my inability to have his darshan was gone and was firmly reinforced that Baba is protecting his children from all calamities at any time.