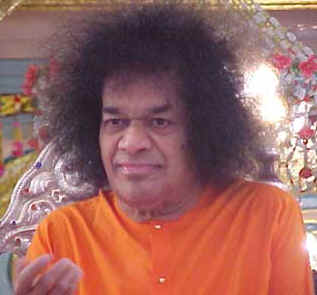 The mother of an infant girl experienced Baba's grace in a strange manner. Her daughter was diagnosed with a heart condition needing immediate surgery. She visited Puttaparthi and wrote her daughter's condition in the most pitiful manner possible. Her daughter was scheduled to undergo surgery at the hospital in Puttaparthi but there was a significant chance that she could lose her life due to the delicate nature of the operation. She was anxious to the extreme and nervously awaited Swami's darshan.
As she sat in the darshan line, the merciful Lord approached her and quickly took the letter that the helpless mother held out to Him. She was thrilled, no doubt, but her joy was soon transformed into extreme anxiety as Swami took the letter, crumpled it, and threw it out instantly.
She burst into tears inconsolably as helpless onlookers attempted to console her. She lost all hope but had to be by her daughter's bedside on the day of the surgery. She summoned as much courage as she could and went to the hospital to help her daughter with diagnostic tests that were scheduled on the eve of surgery.

The doctors came rushing to her after the scans. Seeing their rush, her heart almost shut down but the smile on the doctors' faces prevented her from collapsing. The doctors were extremely excited and revealed to her that her daughter's heart condition had DISSAPPEARED miraculously. She could not understand what had happened but then realized why Swami had thrown away the letter.
Swami's destruction of the letter did not symbolize a bad omen (contrary to what she feared) but was rather a proclamation by the Almighty that no surgery was needed. The overjoyed mother-daughter duo visited Swami the following day and thanked Him from the bottom of their hearts. They are live testimonies to the proclamation that Baba has made on innumerable occasions: "I bear the love of a thousand mothers."
Baba is a Divine Doctor who is capable of sealing not just physical holes, but ones at many levels — spiritual, emotional, personal, and more. All He asks for is a heartfelt plea and sincere adherence to His teachings. We may not be able to understand Baba's actions in the short run, but in the long term everything will fall in place and Baba will make us understand that whatever He does is always for our own good.